Vous prévisualisez:

Les grands arrêts fiscaux de la Cour de Cassation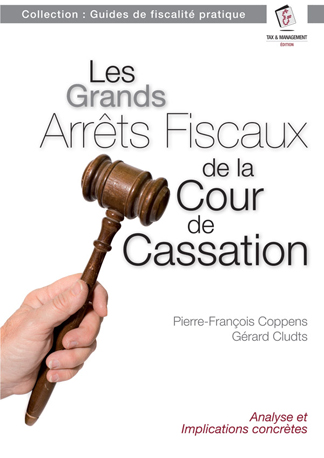 Les grands arrêts fiscaux de la Cour de Cassation
Titre

Les Grands Arrêts Fiscaux de la Cour de Cassation

Sous-titre

Le livre de référence pour l'analyse des grands arrêts fiscaux de la Cour de cassation en matière de fiscalité directe et de procédure fiscale

Mots clés

Impôt direct – Procédure fiscale – Jurisprudence – Arrêt de cassation

Edition

1ère edition 2009-2010

Auteur(s)

Pierre-François Coppens et Gérard Cludts

Matière

Droit Fiscal

Collection

Guides de la fiscalité pratique

Tome

1

Langue

Français

Marché

Belgique

Format

17 x 24

Finition

Livre broché

Support

Papier

Couverture

Papier – 250g/m2 – Chromocard; Impression Recto quadrichromie

Intérieur

80 gr/m2

ISBN

978-2-9600909-0-1

Nbre de pages

151

Date de parution

Novembre 2009

Prix recommandé

59 euros

Diffusion

Patrimoine (Belgique)

Editeur

Tax & Management Editions

Auteur

Gérard Cludts,

Pierre-François Coppens
Avis utiles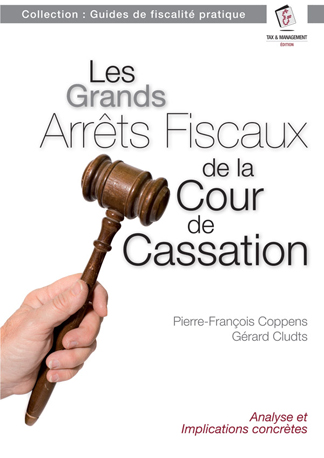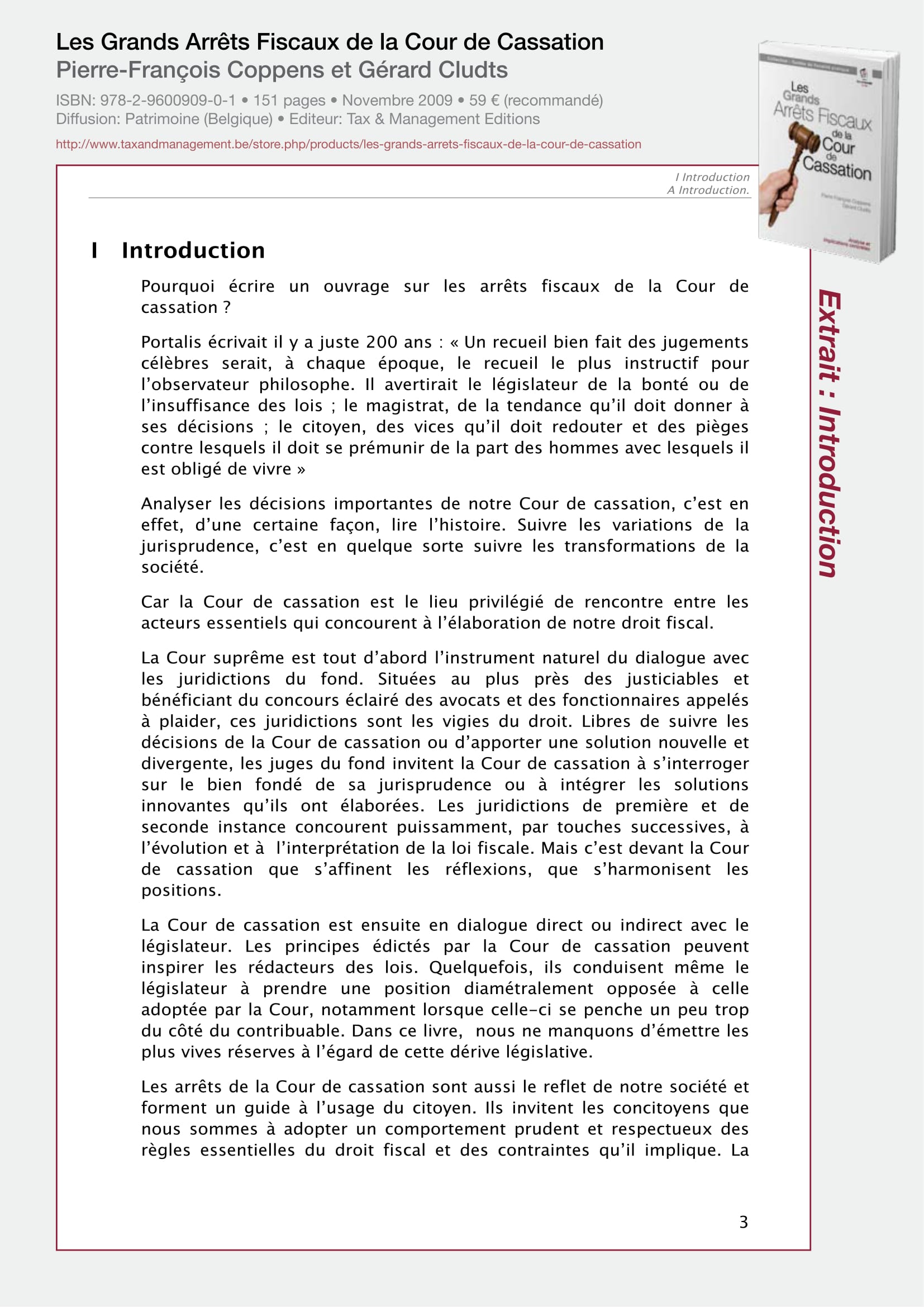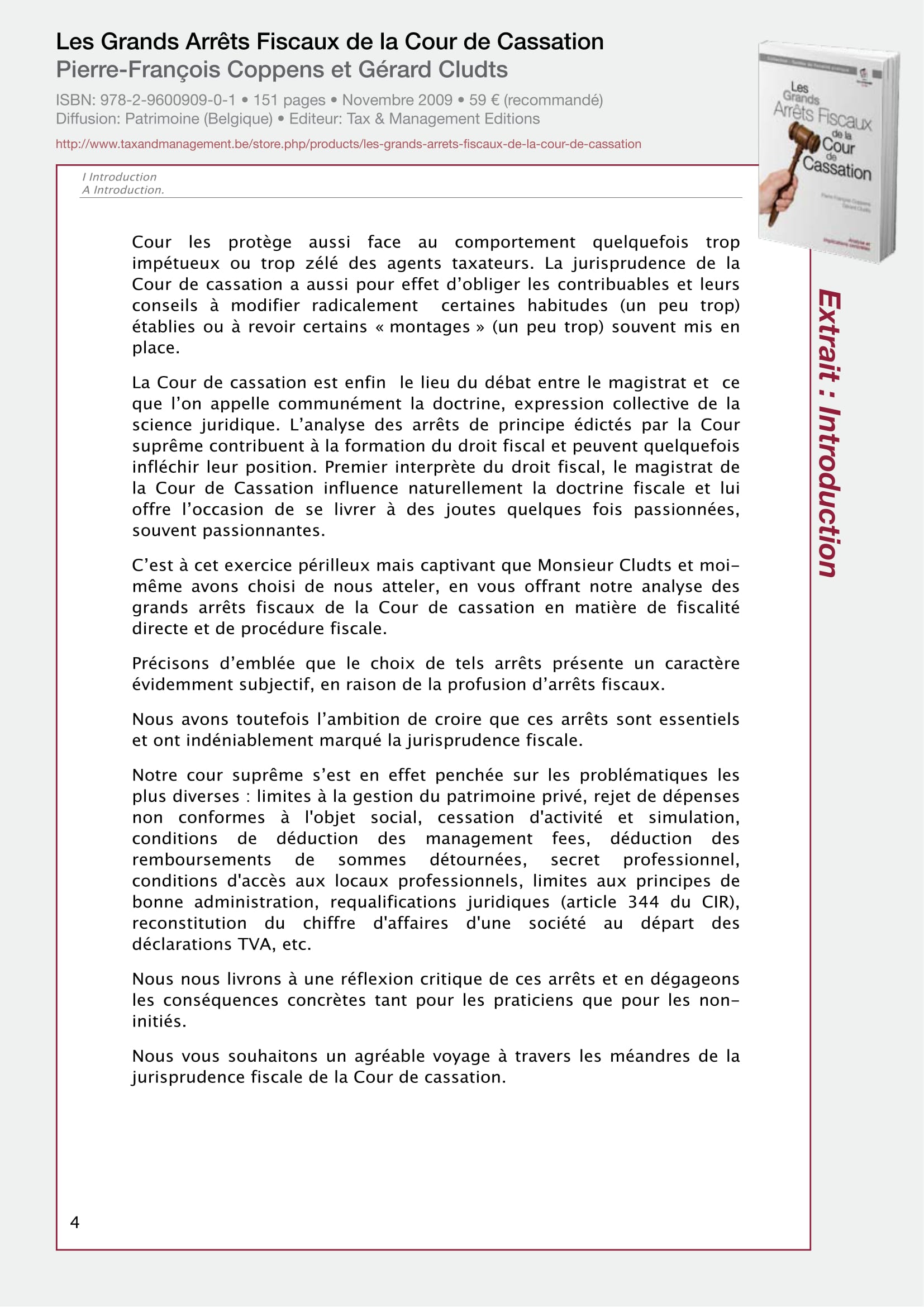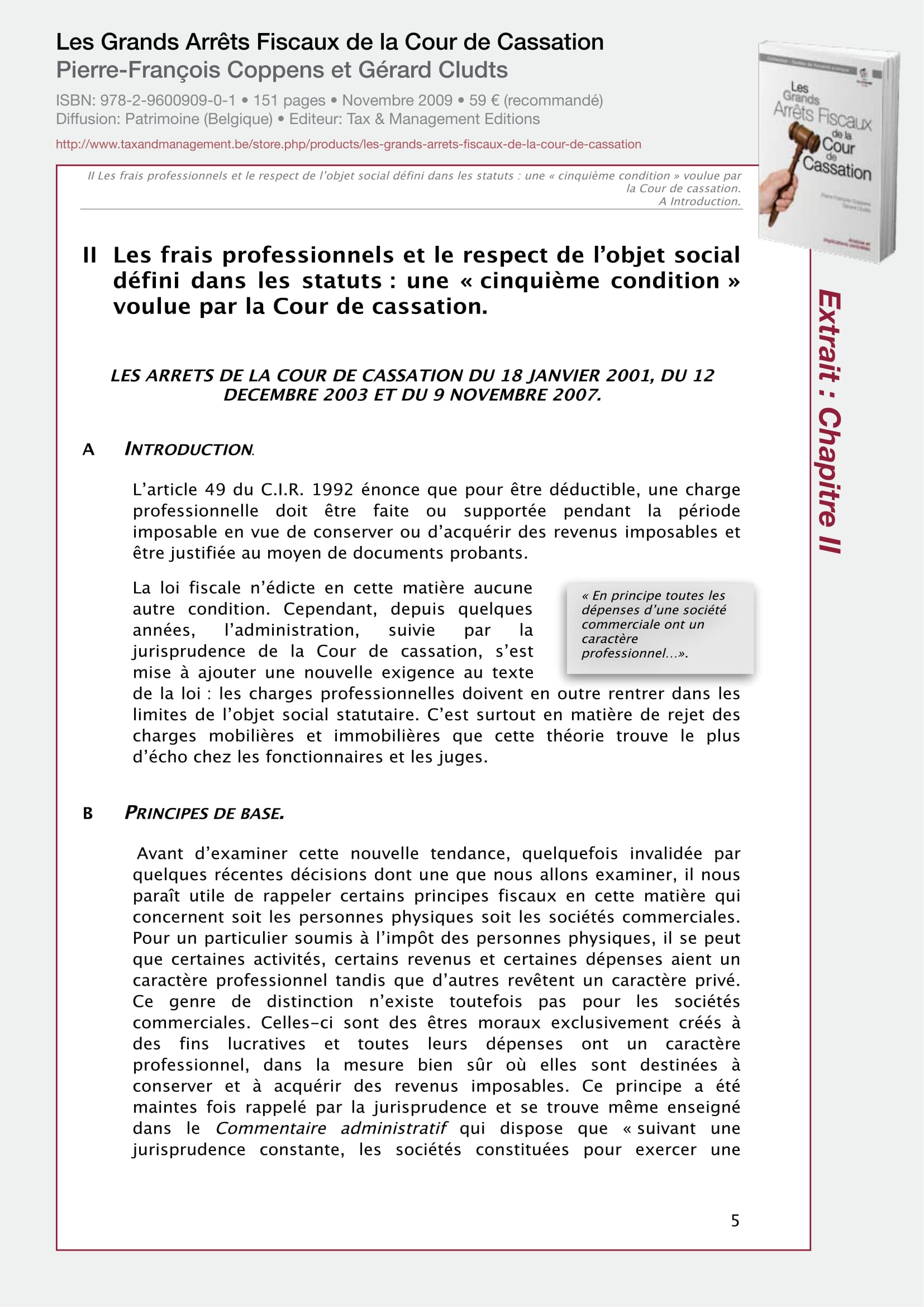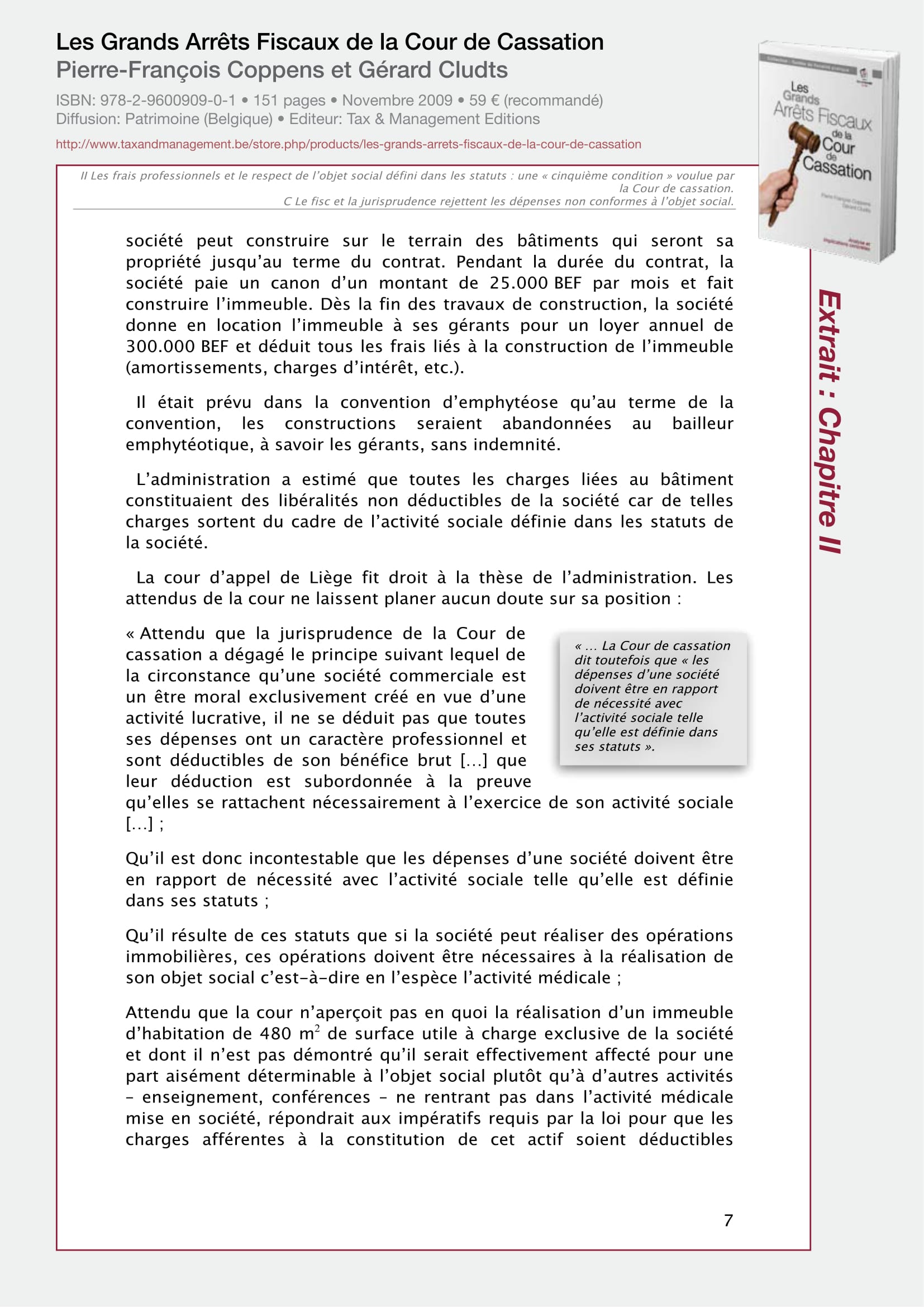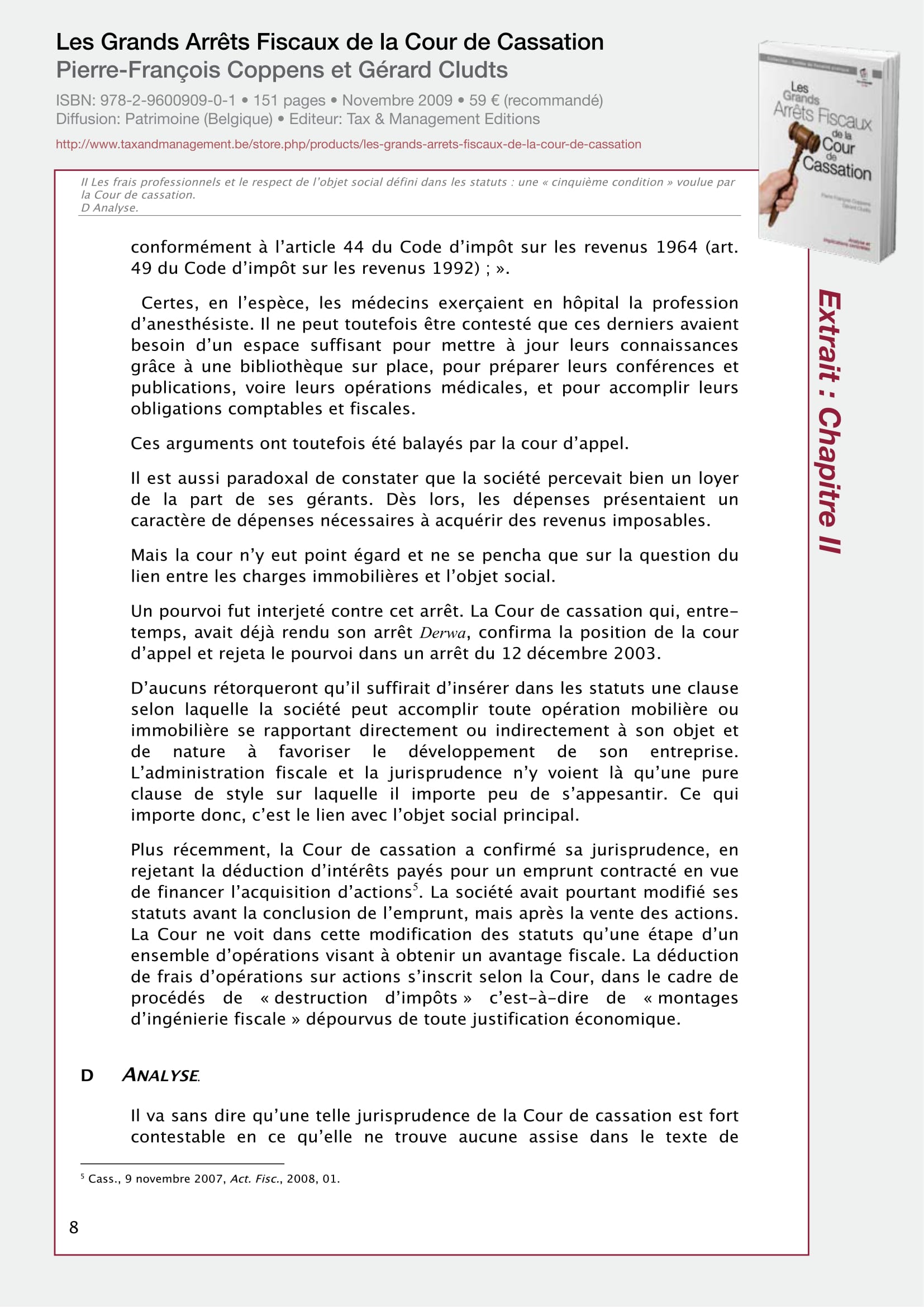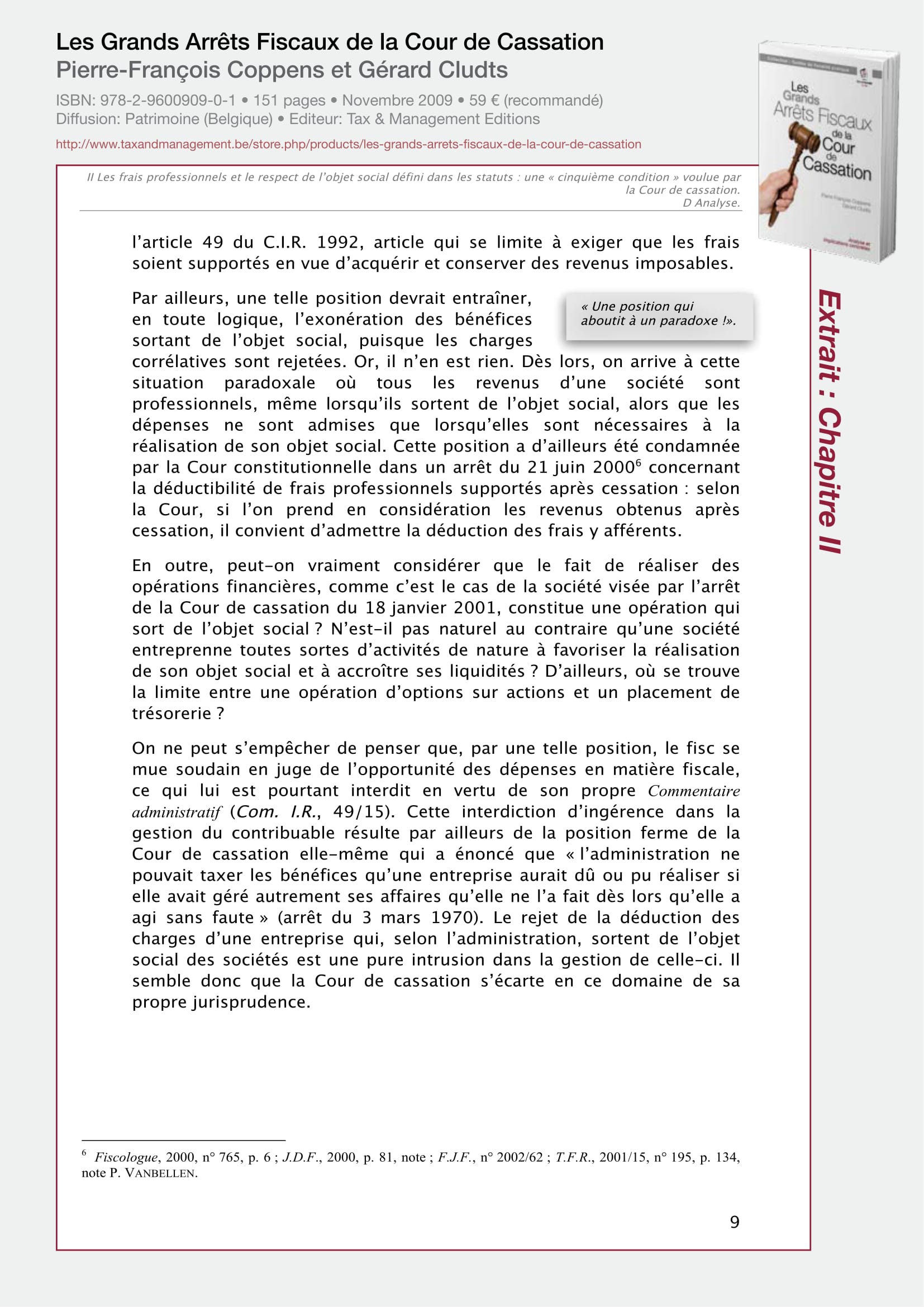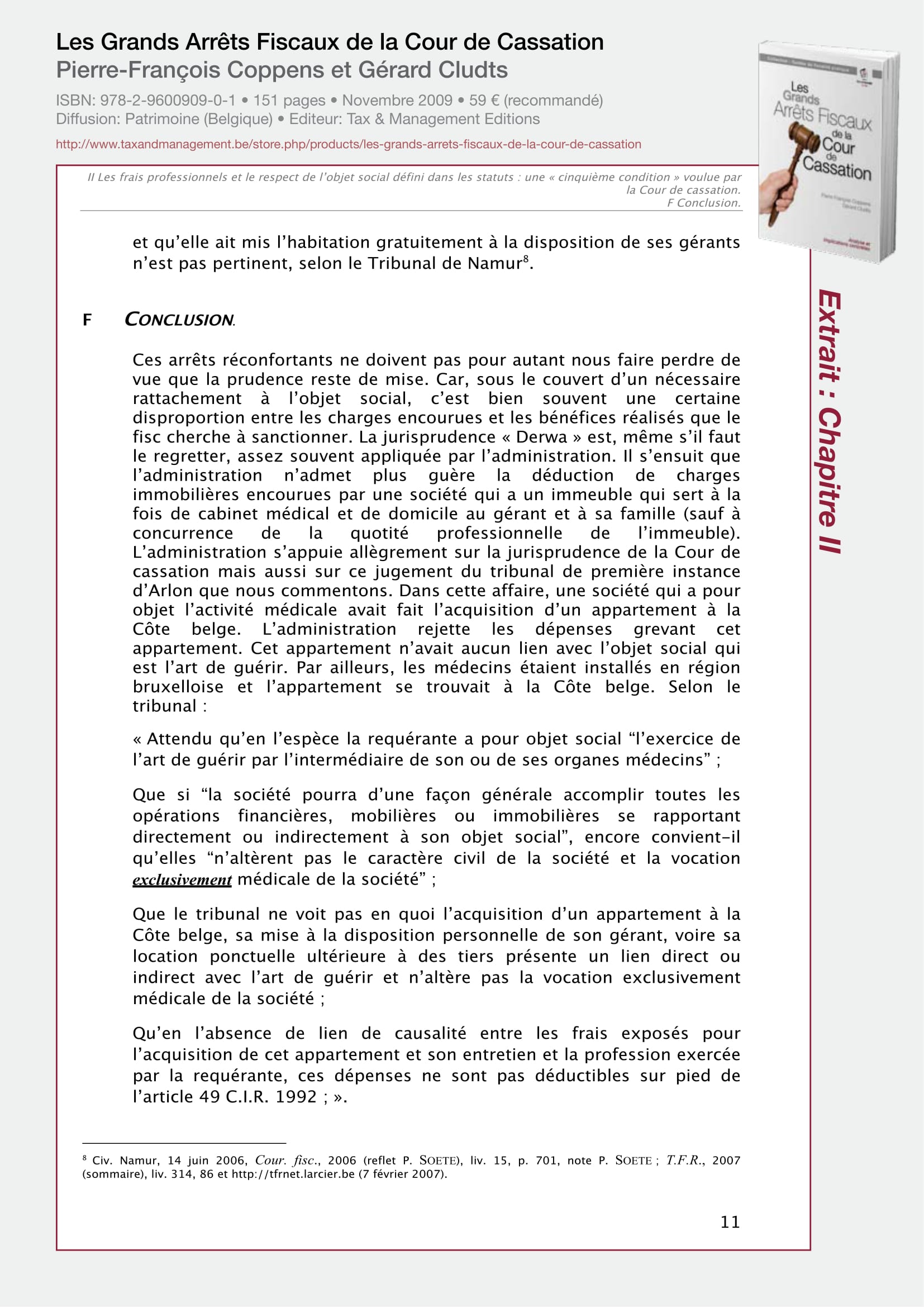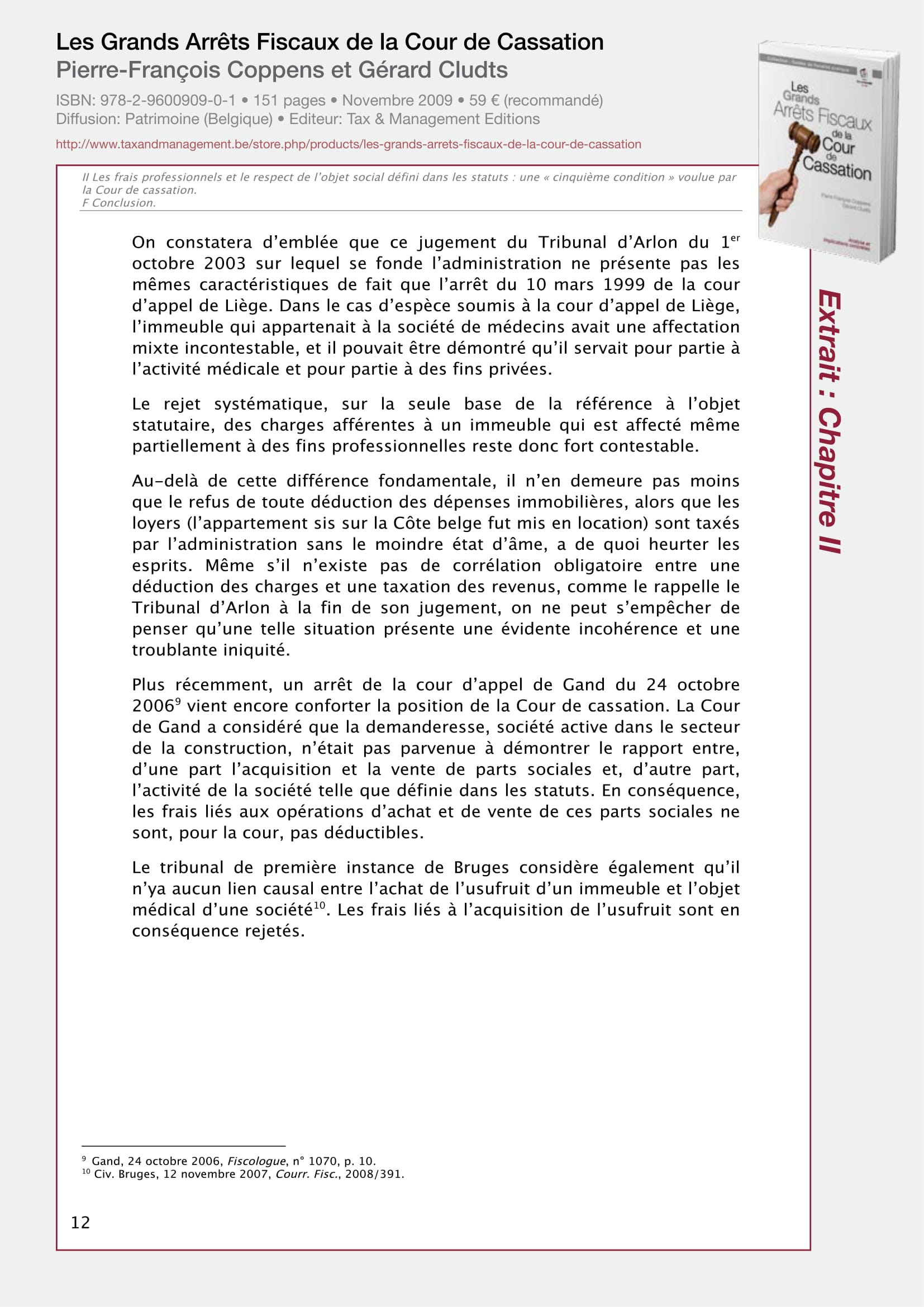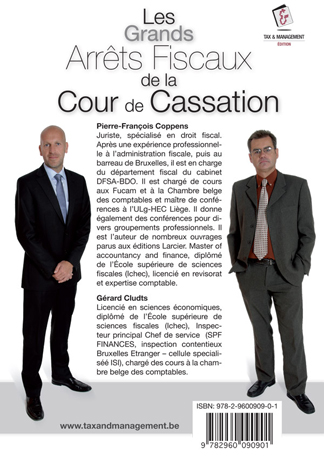 Les grands arrêts fiscaux de la Cour de Cassation
Cet ouvrage parcourt au travers d'une analyse rigoureuse les grands arrêts fiscaux récents qui ont profondément marqué la jurisprudence fiscale. Des problématiques notoires sont étudiées, dont notamment : les limites à la gestion du patrimoine privé, le rejet des dépenses non conformes à l'objet social, la cessation d'activité et simulation, les conditions des « management fées », etc…
Titre

Les Grands Arrêts Fiscaux de la Cour de Cassation

Sous-titre

Le livre de référence pour l'analyse des grands arrêts fiscaux de la Cour de cassation en matière de fiscalité directe et de procédure fiscale

Mots clés

Impôt direct – Procédure fiscale – Jurisprudence – Arrêt de cassation

Edition

1ère edition 2009-2010

Auteur(s)

Pierre-François Coppens et Gérard Cludts

Matière

Droit Fiscal

Collection

Guides de la fiscalité pratique

Tome

1

Langue

Français

Marché

Belgique

Format

17 x 24

Finition

Livre broché

Support

Papier

Couverture

Papier – 250g/m2 – Chromocard; Impression Recto quadrichromie

Intérieur

80 gr/m2

ISBN

978-2-9600909-0-1

Nbre de pages

151

Date de parution

Novembre 2009

Prix recommandé

59 euros

Diffusion

Patrimoine (Belgique)

Editeur

Tax & Management Editions

Auteur

Gérard Cludts,

Pierre-François Coppens

Licencié en sciences économiques, diplômé de l'École supérieure de sciences fiscales (Ichec), Inspecteur principal Chef de service (SPF FINANCES, inspection contentieux Bruxelles Etranger – cellule specialiséé ISI), chargé des cours à la chambre belge des comptables.
Pierre-François COPPENS est conseil fiscal agréé par l'Institut des Experts comp-
tables et Conseils fiscaux (IEC).
Il dispose d'une expérience de plus de 20 ans dans le conseil aux sociétés et aux
particuliers.
Il est titulaire d'une licence en droit, d'une licence spéciale en revisorat et expertise comptable, d'un Master of Accountancy and Finance et du Diplôme en Sciences Fiscales de l'ESSF (ICHEC).
Tant par conviction que par esprit de curiosité, Pierre-François n' a jamais voulu se satisfaire d'un parcours professionnel unique mais a choisi de s'investir dans des environnements professionnels les plus divers, qui sont autant de sources d'épanouissements et d'opportunités de rencontres humaines exceptionnelles.
Pierre-François a démarré sa carrière fiscale en 1991 à l'administration fiscale où il a été intégré dans des services fort différents : Contrôle IPP de Wavre, Contrôle AFER de Louvain-La-Neuve, Service Non-Résidents (Sociétés) de Bruxelles et Département des conventions internationales à l'Administration centrale.
En 1998, il a poursuivi son parcours au Barreau de Bruxelles au sein du cabinet CMS Lexcelis (devenu CMS DeBacker) où il a collaboré avec Maitre André Bailleux. Il fut ensuite avocat associé du Cabinet Corbeel et Coppens à Louvain-La-Neuve et du cabinet LouiseLawyers à Bruxelles.
Recruté en 2007 par Gérard Delvaux (Past Président de l'IEC), il fut responsable du département fiscal du célèbre cabinet DFSA fondé par ce dernier (cabinet intégré au groupe à BDO en 2009).
Depuis 2011, Pierre-François exerce comme conseil fiscal indépendant, collaborant notamment pour la fiduciaire STRATEFI (www.stratefi.be) ou la Bank Van Breda dont il fut le conseil fiscal exclusif pour les Régions de Bruxelles et de Wallonie.
151
En avril 2012, il a été désigné comme expert auprès du Parlement fédéral et fut chargé, à ce titre, de la rédaction de propositions de lois fiscales, et de multiples questions parlementaires.
Pierre-François Coppens est l'auteur de dix ouvrages de droit fiscal, dont
✥ « L'entreprise face au droit fiscal belge » (Editions Larcier, 2 volumes, 1578 pages http://editions.larcier.com/titres/3248320/l-entreprise-face-au-droit-fiscal-belge.html)
✥ et de très nombreux articles parus dans diverses revues fiscales spécialisées.
Il est aussi collaborateur régulier à la Libre Belgique (Chroniques fiscales heb-domadaires de la Libre Entreprise)
Il est chargé de cours à la Chambre Belge des Comptables de Bruxelles et formateur
aux FUCaM et a enseigné comme Maître de conférences à l'UCL et à l'ULg. Il anime
des séminaires fiscaux pour divers groupements professionnels.
Depuis septembre 2012, il était Chargé d'études au sein de l'IEC, tout en exerçant à titre personnel une activité de conseil fiscal. Il est dorénavant Secrétaire général
à l'OECCBB.